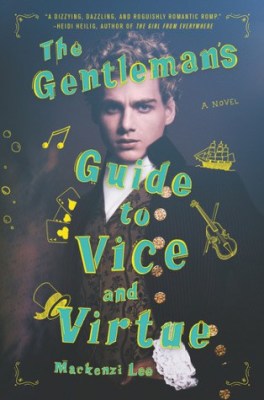 I went into The Gentleman's Guide to Vice and Virtue by Mackenzi Lee with only a hazy idea what to expect. Still, historical English queer romance? Sign me right the hell up.
From the very first chapter, which opens with Percy and Monty waking up after a massive party with the hangovers to prove it, I was in love with Monty. He's so precisely my kind of catnip: broken, sad, and snarky and careless to cover the fear of how he's constantly fucking up his life. Everything he did made me want to shake him, and Percy wasn't much better, although at least Percy had common sense. The amount of pining these two idiots did throughout the book was absolutely delicious (and agonizing).
Percy is half-black and disabled, and I loved that Lee didn't hand-wave away his ailment. She made it part of him, and he learned to live with it with grace and dignity, while Monty learned to accept it and came to terms with what it meant for Percy at the same time, all while dodging murderous Frenchmen on the run throughout Europe.
Mackenzi Lee created a lovely world with deft characterization, intriguing plot, and wonderful pacing that kept me reading at a breakneck speed because I couldn't bear to wait to find out what happened next. Her writing is graceful, funny, and heartbreaking in turns, and I found The Gentleman's Guide to Vice and Virtue exactly the right amount of angsty with a satisfying ending.
Five out of five stars. You can buy it at Amazon and follow Ms. Lee on Twitter here.